portraits,paintings from photos etc
Can't find exactly what you're looking for in our gallery? Don't worry. Although we have an enviable choice of paintings available for immediate delivery we realise that you may have something different in mind. After all, the joy of art is in its sheer breadth and diversity.

The answer is our custom oil paintings service. Whatever your favorite masterpiece, from Alma-Tadema to Van Gogh, just name it and we'll paint a superb replica, just for you!

Or perhaps you'd like a magnificent family portrait? Our pleasure! A painting of your home, favorite holiday place, a wedding photograph or a much-loved pet? Certainly! Just give us an image to work from, and leave the rest to us. And it won't cost the earth! Take a look.
For copies of famous paintings again we'll just need suitable source material. If you have a copy of the picture, that's great, or you've found it online, perfect.

Not sure of the details? Perhaps you know the name of the artist, or the painting. Try our extensive resources page with links to many excellent archives.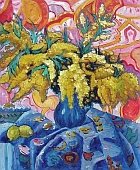 See also below for handy links to information about many of our most requested artists.

Commission to delivery takes about eight weeks, so please be sure to plan ahead for birthdays and other special occasions. You'll understand that work of such high quality can't be rushed, but do rest assured it's well worth the wait.
Please don't hesitate to ask for more information or to request a quotation. We look forward to hearing from you and will be in touch without delay.